Home

/

Undercounter Icebanks
Undercounter Icebanks

Bracton imports a complete range of Celli Ice Bank Beer Coolers made in Italy to our specification. Using the latest in production methods, our beer ice banks are built for Australian conditions, using stainless steel bodies to withstand our harsh environment.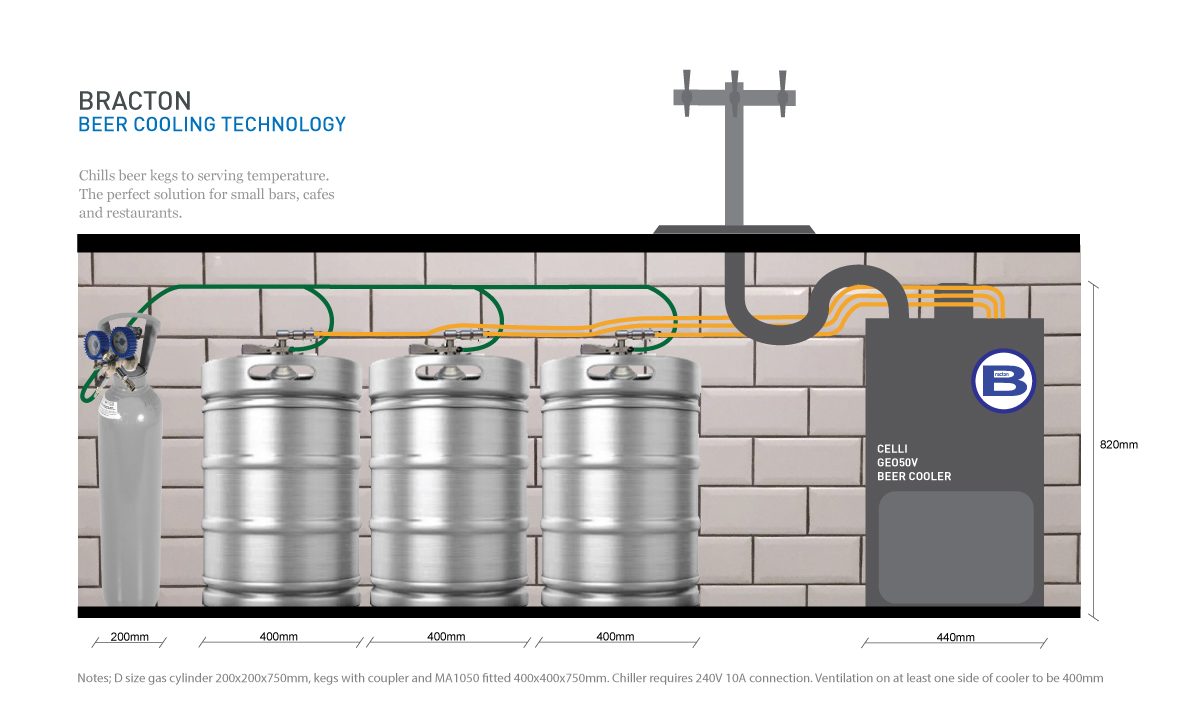 ICE BANK BEER COOLERS
The Celli Ice Bank Coolers have extra long product coils to ensure beer is dispensed at the optimum temperature. Reliable European built condensers ensure years of quality performance without failure. Tested to Australian Standards AS/NZS 60335.1 & AS/NZS 60335.2.75

Built for Australian conditions
High energy efficiency – advanced insulation
Longest product lines in industry
For the coldest ice bank dispensed beer
Stainless case and floor pan
Ideal for salty environments
Rapid ice bank discharge hose (no need to siphon)
Casing with integrated pump and coils
Horizontal and vertical options
New stylish front panel with cover inside to protect electrical parts

For frozen or iced fonts, consider upgrading your ice bank to Bracton's SubZero hybrid technology. Delivering the benefits of a glycol system with reserve cooling capacity.

Bracton GEO Series have been tested to Australian electrical standards AS/NZ60335.1, AS/NZ60335.2.75 and have been Registered as a Type B Device, making them one of the only hydrocarbon Icebanks being able to be installed in QLD.

MOST ICE BANKS IN AUSTRALIA HAVE NOT BEEN TESTED TO AUSTRALIAN STANDARDS.
GEO27V R290

Coils: 3
Compressor: 1/3HP
Icebank: 12Kg
Cooling: 625w

Dispense capacity until icebank depleted;

16°C-100L
24°C-60L
32°C-43L
43°C-31L

Coil Lengths: 20/17/13

GEO50V R290

Coils: 4 (5 option)
Compressor: 1/2HP
Icebank: 22Kg
Cooling: 849w

Dispense capacity until icebank depleted;

16°C-147L
24°C-88L
32°C-63L
43°C-45L

Coil Lengths: 20/20/20/17/13*

*Optional

GEO50H R290

Coils: 4 (5 option)
Compressor: 1/2HP
Icebank: 22Kg
Cooling: 849w

Dispense capacity until icebank depleted;

16°C-147L
24°C-88L
32°C-63L
43°C-45L

Coil Lengths: 20/20/20/17/13*

*Optional

GEO75H R290

Coils: 6 (7 option)
Compressor: 3/4HP
Icebank: 33Kg
Cooling: 1,392w

Dispense capacity until icebank depleted;

16°C-227L
24°C-136L
32°C-97L
43°C-70L

Coil Lengths: 20/19/20/20/20/17/13*

*Optional

BRAVE90BC

Coils: 6 (8 option)
Compressor: 1HP
Icebank: 39Kg
Cooling: 2,213w

Dispense capacity until icebank depleted;

16°C-260L
24°C-156L
32°C-111L
43°C-80L

Coil Lengths: 20/20/20/20/20